Position:News-2023 Youth Entrepreneurship Market and Animation Carnival Is Coming!
News time:2023-06-14 16:15:00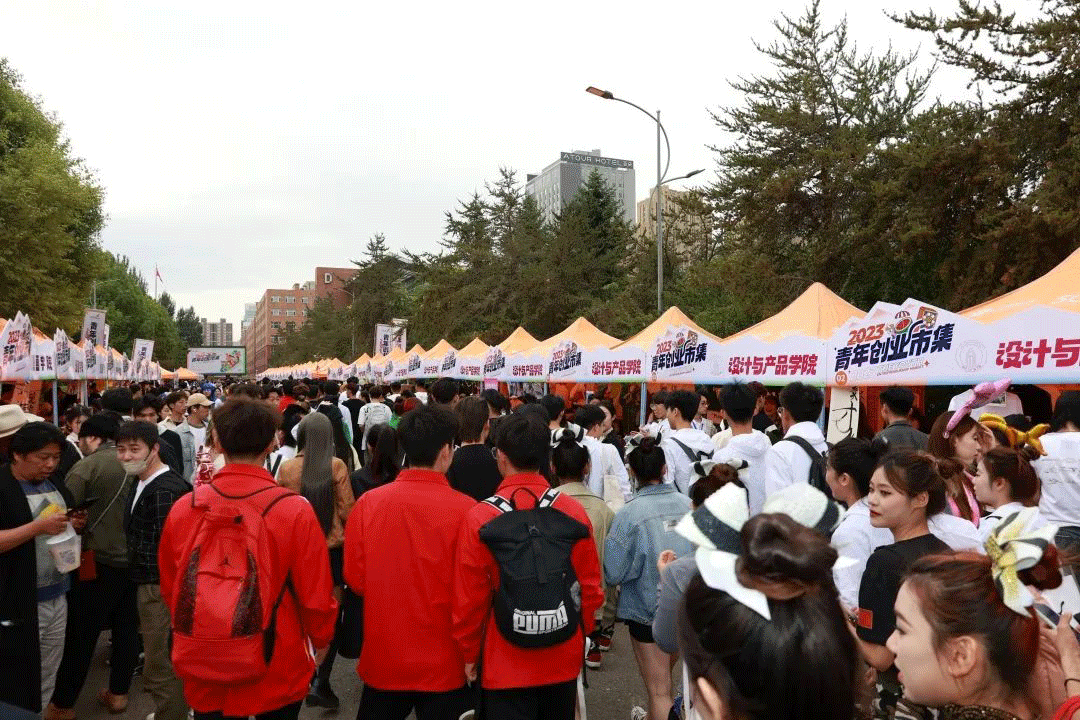 On June 10, 2023 Youth Entrepreneurship Market and Animation Carnival kicked off at Jilin Animation Institute! As the annual creative gathering of Jilin Animation Institute, the Entrepreneurship Market had been successfully held for nine sessions, which was a characteristic brand event of innovation and entrepreneurship that the school focused on. Meanwhile, it was the epitome of the four core cultures of "Innovation, Creativity, Excellence and Entrepreneurship", which was a large-scale entrepreneurship design exhibition aimed at students' creative power. This activity aimed to transform students' professional skills into actual commodities, open up the market transformation chain of "Works-Commodities-Products" to enhance students' creativity and imagination. Furthermore, it utilized the essential characteristics of infinite creativity, huge space and broad prospects of art to promote the construction of an innovative and entrepreneurial education system with "JAI Characteristics", help the high-quality development of Jilin Province University Innovation and Entrepreneurship (Cultural and Creative) Alliance, led the development of the cultural industry and embodied the innovative and entrepreneurial education concept and characteristics of "Combination of professional education, innovation and entrepreneurship education".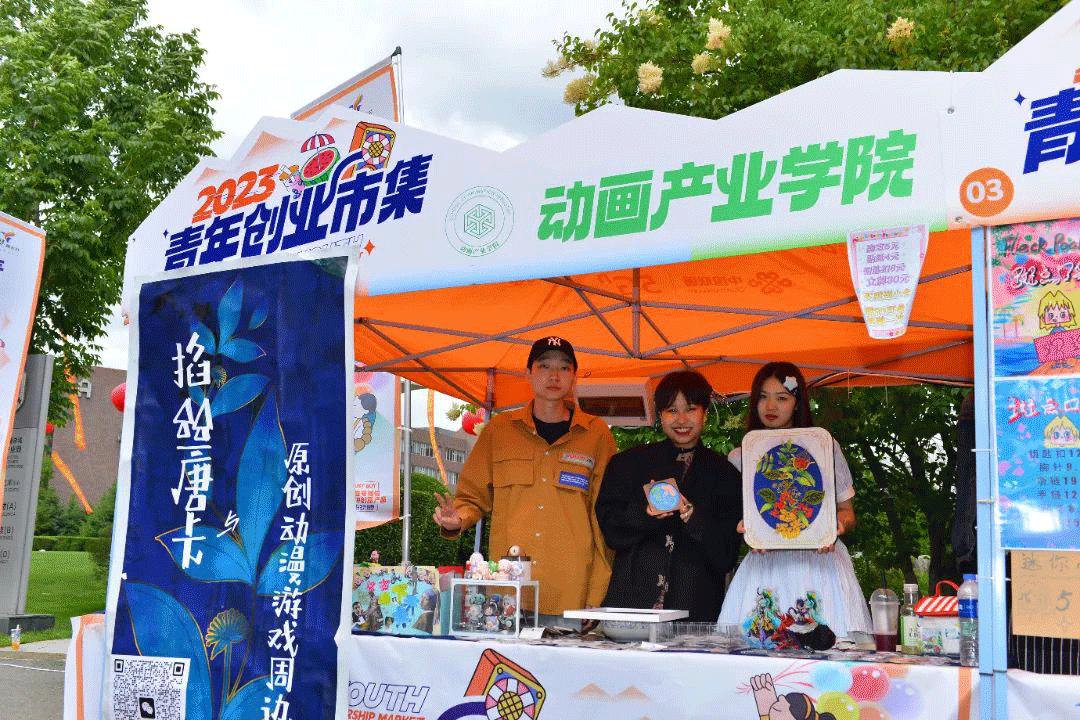 It was reported that this year's Entrepreneurship Market gathered 10 schools and school-related industry companies to set up 110 booths. The exhibits included the school's characteristic exhibits, students' original works, the school's characteristic performances and characteristic activity exhibition area, such as national intangible cultural heritage craft lacquerware bracelets, floating lacquer fans, national style headdresses, filigree thangkas, film physical special effects display, virtual image shooting, etc., with a wide variety and unique characteristics. At the same time, the combination of national style animation, film and television images and traditional Chinese culture in Entrepreneurship Market had created a JAI campus cultural atmosphere dominated by the new ecology of youth culture, showed the new ideas of the school youth in contemporary art, design and creation, which attracted nearly 1,000 provincial and bureau leaders, guests, teachers and students from 59 universities to come to JAI to participate in the conference of Jilin Provincial University Innovation and Entrepreneurship (Cultural and Creative) Alliance to "entering the market" to appreciate student works and JAI's innovation and entrepreneurship culture.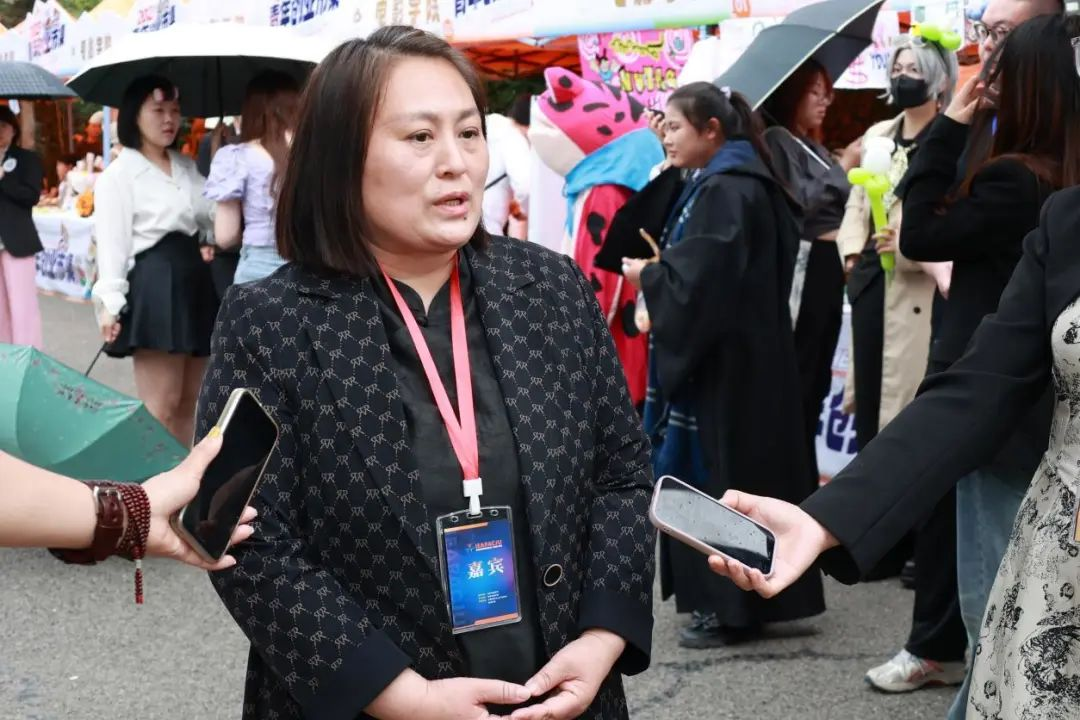 Li Yan, Vice President of the School of Innovation and Entrepreneurship, Jilin Medical University
Li Yan, Vice President of the School of Innovation and Entrepreneurship from Jilin Medical University, said "The Entrepreneurship Market of JAI gives me a feeling of time travel, and I am deeply impressed by the lively students and enthusiasm for entrepreneurship. The rich and colorful student activities are not only the extension and practice of the major, but also allow students to get in touch with the society and industry in advance, which is a good opportunity to cultivate students' innovative and entrepreneurial ability and experience themselves!"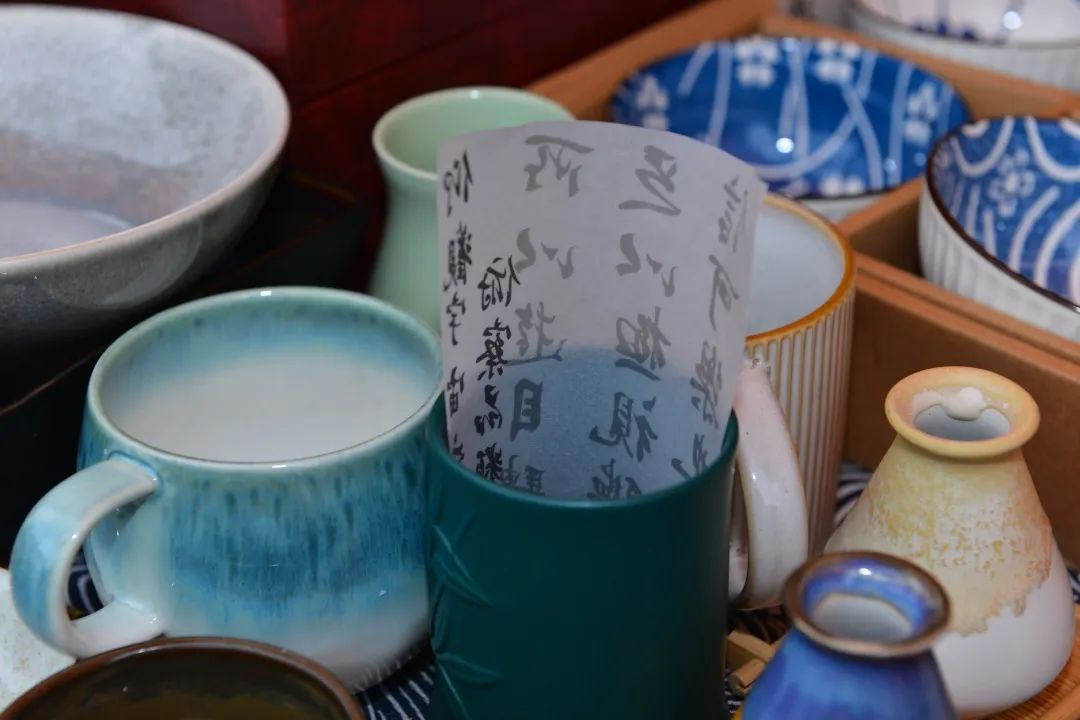 "As one of the important platforms for cultural and creative students to innovate and start a business,the Entrepreneurship Market has built a large platform for JAI teachers and students to display their own creativity and ability, and satisfies the ideal of open and diverse creation for young college students, which is an innovation and entrepreneurship feast that integrates education, entrepreneurship, artistry, and entertainment! " Shu Xinying, the entrepreneurial tutor of School of Innovation and Entrepreneurship, Jilin Animation Institute, told us, Entrepreneurship Market encouraged students to verify the commercial value of the works produced in their usual study and project practice through a small-scale market behavior, so as to lay a good foundation for them to transform their professional expertise into entrepreneurial resources in the future.
Mr. Li from Jilin Normal University stopped for a long time in front of the booth of the second studio of arts and crafts of School of Design, admiring the series of handmade leather backpacks, notebooks, ornaments, bracelets, etc. He said, "The students do it very delicately and creatively, that is great! Not only do I buy a unique notebook, but also order a briefcase. I want to praise the creativity and hands-on ability of JAI students!"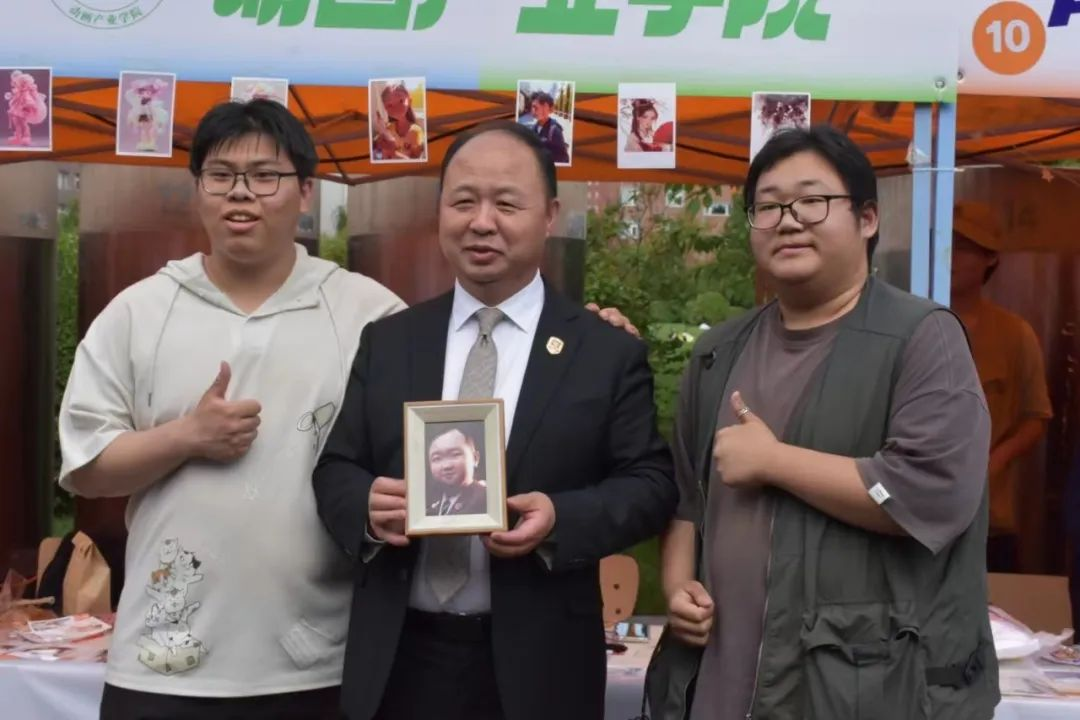 In the 817 New Media Animation Studio of School of Animation Art, Gao Zhanpeng, a senior student, told the reporter, the studio created a series of derivative products around the original animated short video "WO DI GE SHEN", including 17 kinds of products such as mobile phone cases, umbrellas, pillows, and dolls; "WO DI GE SHEN" won the Silver Award of the 3rd Jilin Provincial College Student Advertising Creative Competition, and it is currently preparing to launch in the short video platform.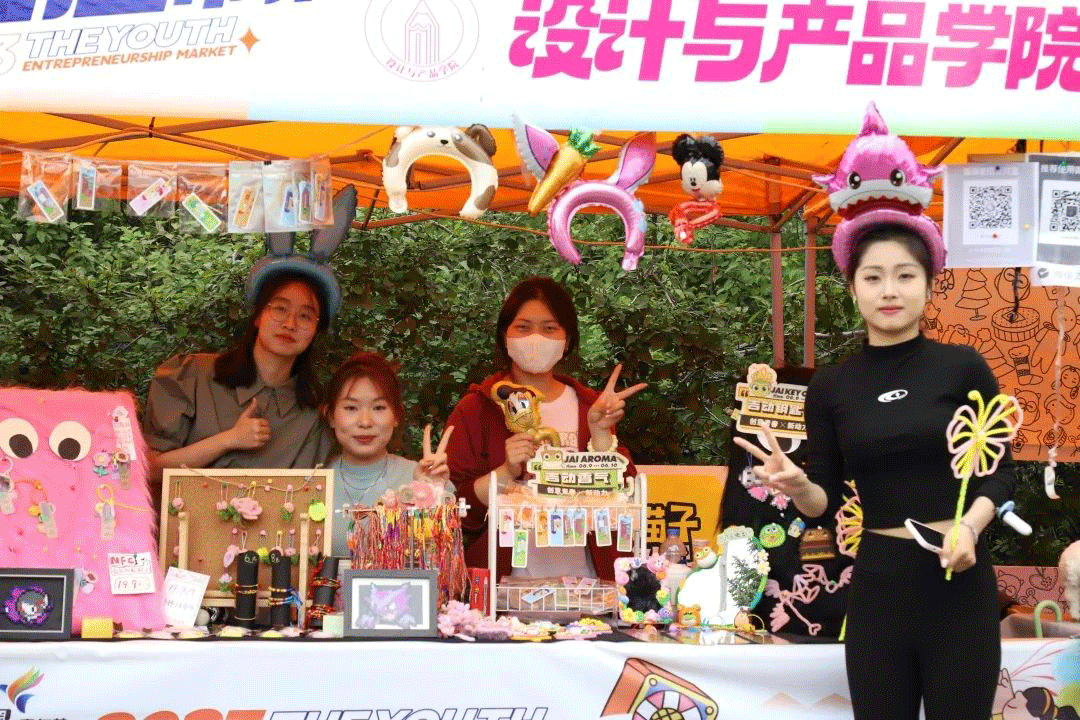 Among the infinitely expanding ideas, JAI students brainstormed to make Entrepreneurship Market colorful. With its unique culture, fashionable and novel charm, Entrepreneurship Market became a light to illuminate the campus. In the future, JAI will take "Cultural Power, Education Power, and Technological Power" as its mission and responsibility for its own development; Based on the characteristic development of "Integration of Education, Research and Industry",deepening the integration of Industry and education, and promoting double entrepreneurship; Cultivating students' spirit of entrepreneurship and innovation, increasing kinetic energy through innovation, promoting employment through entrepreneurship, and promoting the construction of a good environment for the agglomeration and development of cultural and creative industries, facilitating the integration and innovation of "Talent Chain, Professional Chain, Entrepreneurial Chain, Technology Chain, and Industrial Chain". Making effort to build a national-level innovation and entrepreneurship university, and cultivating more outstanding high-end talents in the cultural and creative industry for the country and the local area. Creating a new pattern for the development of cultural and creative industries in Jilin Province, setting up a stage for innovation and entrepreneurship students in Jilin Province, and contributing to the high-quality development of cultural and creative industries in Jilin Province!