The Fete des Bulles has been held in China since 2016. It pays tribute to comics and graphic novels and also facilitates communication and interaction between creators, publishers, agents, students and passionate readers. Initiated by the French Embassy in China, the 6th Fete des Bulles will take place nationwide from May 21 to June 10, 2022. This will be the sixth time for Jilin Animation Institute to hold the event. This year in Changchun, JAI will integrate the 5th 24-hour International Comic Marathon into the festival in an innovative way.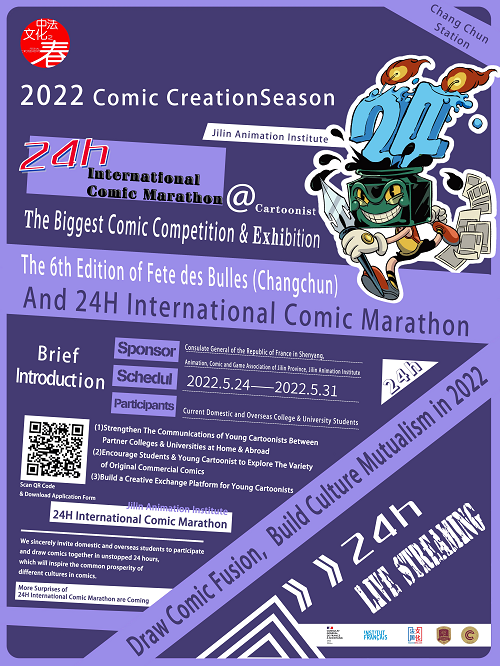 I. Competition Purpose
This competition aims to build a creative exchange platform for young cartoonists, encourage college students and young people to explore a variety of original commercial cartoons, discover excellent creative artist, strengthen the study and communications of young cartoonists between partner colleges and universities at home and abroad, and jointly discuss the training mode and direction of young cartoon talents.
Sponsor:Consulate General of the Republic of France in Shenyang,
Animation, Comic and Game Association of Jilin Province, Jilin Animation Institute
Organizer: School of Comic of JAI, IP Business Group and"Himaker" Business Group of JAI Cultural Arts Group,
Co-Organizer: The participating universities
II. Competition Theme
The theme will be released after the opening ceremony on May 24, 2022.
III. Competition Schedules
Opening ceremony May 24, 2022
Online Forum May 24, 2022
Competition 13:00, May 25 –13:00, May 26, 2022
Closing ceremony May 31, 2022
Excellent Works Exhibition June 3 – June 30, 2022
IV. Competition Rules
Contestants will be divided into groups base on personal skills such as script, storyboard, delineating, coloring and post-production.
1. Each group contains 5 members (in principle, each team includes both international and Chinese students).
2. Each group will create their work according to the theme within 24 hours while live streaming the creation process, and then submit the finished work (8 pages) after the 24 hours.
3. Group discussion will take place online via VooV Meeting.
4. Each group shall log in to the online platform to submit their work within 3 hours after competition ends.
5. Judging will be conducted according to professional perspectives such as the completion of comic works, artistic sense of photography and story lines, etc. The excellent works will be published and awarded online within one week.
VI. Awards
1 First prize(RMB 10,000 yuan)
2 Second prizes(RMB 5,000 yuan)
4 Third prizes(RMB 3,000 yuan)
30 Excellent Individual Awards(RMB 300 yuan or gift of equivalent value)
VII. Entry Requirements
1. All participants are formally registered students from domestic and overseas art colleges and universities, or the graduates within three years after graduation;
2. In order to facilitate grouping and judging, participants shall indicate their skills such as script, storyboard, delineating, coloring, or post-production;
3. Each participant shall provide 1 personal life photo, minimum 1000 x 1000 pixels, 300 DPI in JPG format;
4. The participants shall ensure that the whole and part of the work have independent, complete, clear and undisputed copyright; and also guarantee that the created works will not damage any third party's contribution right, portrait right, reputation right, privacy right and other legitimate rights and interests. Authors shall bear the legal responsibility for their work;
5. The content of works created during competition should be healthy and positive, contain no pornographic or violent elements and obey Chinese laws and cultural policies.
VIII. Competition Process
1. Download and fill in the electronic application form from the official website of Jilin Animation Institute or fill in the attached form .
2. Before May 15, 2022, send your signed electronic application form to the official email address of this competition: 552197734@qq.com with the subject of "24-hour International Comic Marathon + Your Name".
3. May 20, 2022, participants will be divided into groups and test VooV Meeting.
4. May 24, 2022 9:00-9:40, opening ceremony and theme release.
5. May 24, 9:40-17:00, 2022, online forum
6. May 25 13:00-May 26 13:00, 2022, official competition hours
7. May 31 9:00-10:40, 2022, closing ceremony
8. June 3-June 30, 2022, excellent works exhibition
9. July 2022, certificates and prizes will be awarded to winners and participants.
IX. Entry Instructions
1. By participating in the competition, participants agree to accept all rules and instructions formulated by the organizing committee.
2. Once submitted, the work shall not be withdrawn without authorization for any reason.
3. The entry form must be submitted with complete information. The contributors shall be responsible for the losses caused by unclear or inaccurate registration information.
4. All entry works must be completed. Sketches or any half-finished works are not accepted.
5. Upon submitting their works to the competition, the participants are deemed to grant the Organizing Committee the rights to exhibit and broadcast the submitted works in authorized media, including news media, publicity brochures, books, special issues, TV, Internet, mobile media and other new media.
6. By applying for the 24-hour International Comic Marathon, the participants will be deemed as authorizing the Organizing Committee to archive their works and authorize a third party to use the works and relevant materials permanently and free of charge for promotion purpose, which means the Organizing Committee has the right to display, publicize and promote the entry works and relevant materials without paying any fees to contributors, but the participants will retain their authorship. The specific method of signature, including location and order, will be determined by the Organizing Committee.
7. No registration fee.
8. All completed works will not be returned.
9. The Consulate General of the Republic of France in Shenyang, Animation, Comic and Game Association of Jilin Province, Jilin Animation Institute and the Organizing Committee have the final right to interpret the rules for the selection and exhibition of the entry works.
X. Description of copyright and other legal issues
1. The participants shall not infringe the patent right, copyright, trade mark right, reputation right, portrait right or any other legitimate rights and interests of any other third party. The legal affairs and disputes arising therefrom shall be borne by the participants.
2. Participants must ensure that their entries are original, and that they are the sole and exclusive owners and rights holders of the submitted works. Participants agree that their participation will not result in:
(1)Infringing the exclusive rights, intellectual property rights, industrial property rights, personal rights or other rights of any third party, including but not limited to copyright, trademark, patent, trade secret or confidentiality obligation.
(2)Violating other applicable laws of any country in the world.
3. For all conflicts and disputes arising from the Chinese and English translation of this call for entry, the Chinese version shall prevail.
4. This call for entry shall take effect from the date of publishing.
Welcome partner colleges and universities to send students to participate in this competition, and welcome students to apply alone as well.
XI. Contact information:
Ms. Wei
Tel:86-431-87018878
Submission email:552197734@qq.com
Organizing Committee of the 24-hour International Comic Marathon
March, 2022
The 6th Edition of Fete des Bulles (Changchun) and 24H Internation Comic Marathon Entry form.docx