Position:News-Student works of Jilin Animation Institute were selected for "The Northeast Person 2050" Poster Design Competition Tour Exhibition
News time:2022-04-29 09:57:00
Recently, the 26th French Month came to a successful conclusion. During the event, French embassies and consulates in China, Switzerland, Canada, North Africa and other countries and regions held various activities to promote the culture of the France and show the diversity of the French language.
Each French Month has a variety of national and local activities for young people. This year, the French Consulate General in Shenyang held a poster design competition called "The Northeast Person 2050" in northeast China. The competition was open to all students from colleges and universities specializing in art in Northeast China.
Work of Shi Mingrui(First prize)
The jury, made up of the founders of parisians 2050 and members of La Lettre P, selected 28 outstanding posters from 307 entries by students from nine universities. After fierce competition, Shi Mingrui from the School of Animation Art won the first prize for his work "Forever Young in My Eyes", Bian Jin from the School of Comics won the Award of Excellence for his work "Tiger". In addition, the works of Xie Junfeng, Sun Rongzheng and Xu Hao from the School of Design, Wu Jinyin from the School of Animation Art, Gao Yongjie and Zhou Huimin from the School of Comics were selected for the poster exhibition of "The Northeast Person 2050". As one of the activities of the 2022 "Sino-French Cultural Spring" Art Festival, the excellent posters created by JAI students will be exhibited together with the works of 53 artists from all over the world in Shenyang, Harbin, Dalian, Changchun and other places.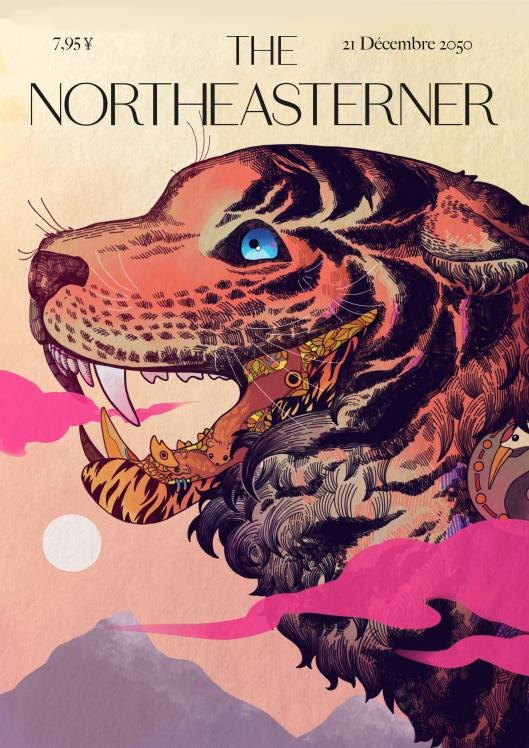 Work of Bian Jin(Award of Excellence)
Creativity is the innovation of tradition, a philosophy that breaks the rules, an intellectual expansion, and a display of cultural deposits... This competition fully demonstrates the solid professional level of our students, highlighting the personality and rich imagination of JAI students. In the future, the university will continue to provide a platform for students to display and communicate on the international stage. We hope that students can enhance the connotation and value of their works in international competitions and make achievements.