Position:News-Living up to the Times and Creating the Future-2021 Freshmen Strides into JAI Campus
News time:2021-09-01 13:32:00
"Hello, Students of 2021!" On August 28th and 29th, Jilin Animation Institute ushered in the freshman season. The cohort of 2021 came from all over the country to JAI to start their dream college life and fulfill their vision.
At 5 am on the 28th, three staff members and more than 50 student volunteers were already waiting at Changchun North and West Railway Stations and Changchun Longjia International Airport to provide pick-up services for freshmen from afar. After the journey, the students finally stepped into campus and visited the Gate of Moon, Central Avenue, the library, the stadium... Cheerful balloons in the sky, fluttering flags in different colors and welcome boards and banners greeted the youthful, smiling faces everywhere and were greeted back with an enthusiastic cheer "JAI, here I come!"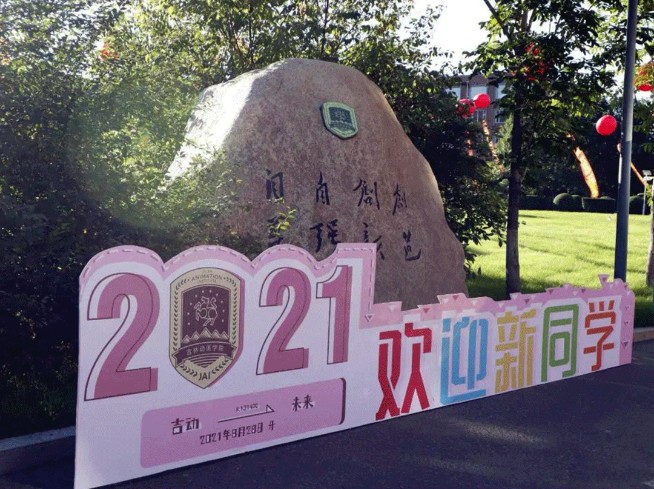 JAI handled the freshmen weekend with particular care under the pandemic. Following its 2021 Fall Freshmen Plan, the institute set up task groups of campus reception, railway station and airport pick-up, registration, apartment reception and publicity. Pandemic prevention, freshmen registration, security, military training, etc. were carried out in an orderly manner. All task groups strictly implemented the pandemic prevention guidelines of Jilin Education Department, Changchun Education Committee and Changchun Education Bureau to ensure the safety of students on campus. The newcomers and their parents were impressed by the working staff members and student volunteers, who worked together smoothly to facilitate their arrival at JAI.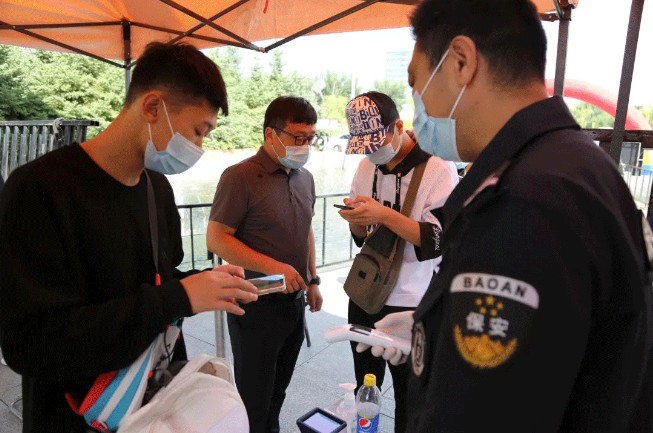 Under the organization of the school, all freshmen had tracked and reported their daily temperature since 14 days prior to the start of the 2021 fall semester. The freshmen needed to provide their negative COVID-19 test results before they could enter the campus. According to one staff member, before entering campus, freshmen were asked to line up 1.5 meters apart along the planned route outside the school gate while staff members from the security department and the department of student affairs, as well as student volunteers and middle-level management checked students' IDs, temperature, COVID-19 safe proofs. After that, each student was instructed by volunteers to the office of his/her chosen school, where they were checked for admission qualifications, charged for tuition, and assigned their class and dormitory." Nearly 900 staff members and students worked together to make sure a safe and efficient reception was delivered. Since parents were not allowed to enter the campus due to pandemic precautions , volunteers spare no effort to help carry luggage for new students. Some volunteers only took a break every few hours, and some were not willing to rest even if they were suffering symptoms of heatstroke. Next, the school will arrange free COVID-19 tests for freshmen for precise pandemic prevention and a safe environment for all students.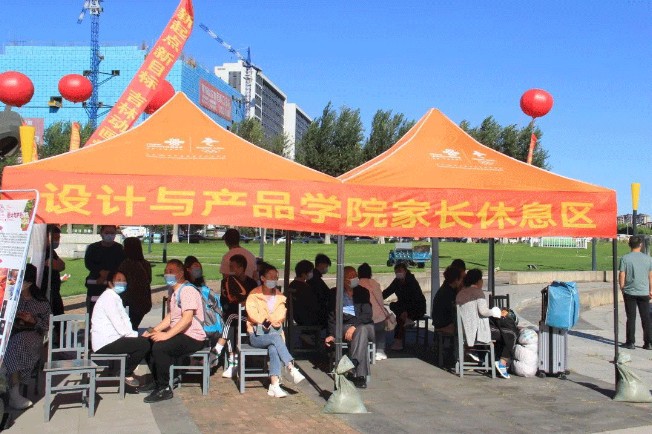 During the two-day reception, JAI set up a rest area for parents at the school gate, providing drinking water, chairs, masks, etc. Though parents couldn't be with their kids on campus, there were able to communicate with the school deans, department heads, and academic leaders if they had any questions. The volunteers helped each freshman and patiently answered their questions, which made parents feel at ease. "We came from Shanghai. The whole family support his decision to stay in Changchun. My son is very determined to study at Jilin Animation Institute. He really wants to learn animation. I hope he will learn a great deal and achieve his animation dream in four years!", said Mr. Zhao, a parent from Shanghai. He also said that although he could not be with his son on campus, he was relieved to see so many staff members and volunteers helping out.
A mother from Guangxi teared with excitement and reluctance. "This is the first time for my daughter to come to the north, and she has to learn to live on her own. As a parent, my feelings are very complicated. But I believe that she will adapt to her new life in college."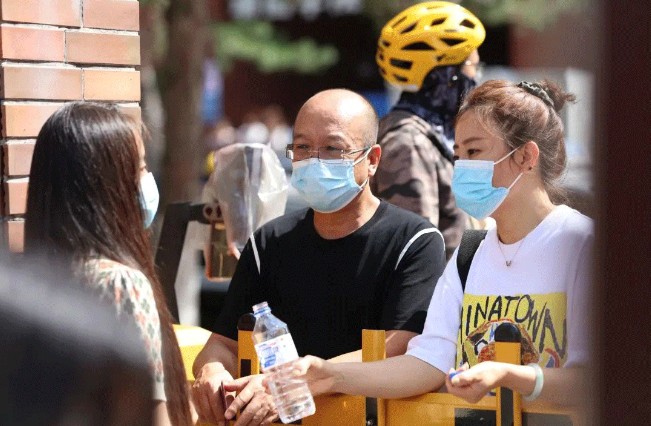 Liang Chen, a freshman in digital media art of the School of Game, said: "When I was preparing for the college entrance exam, I got to know the School of Game of Jilin Animation Institute by chance. At the time, I had a strong interest in games. Now I'm in my dream school! I plan to pass CET 4 and CET 6 in my sophomore year, and study hard so that I can work for some big companies in my third and fourth years. I've got this!"
In 2021, Jilin Animation Institute enrolled nearly 3,400 new students from 30 provinces and autonomous regions across the country. They will undertake their study in pursuit of their bachelors degree and second bachelor's degree. As JAI constantly elevates its education quality and brand influence, its admission rate, registration rate, and student qualifications are all in the forefront of similar institutions. At present, JAI is equipped with distinctive professional characteristics, scientific discipline structure and satisfying employment rate.
Golden sunshine upon the campus; the morning breeze brings the wings of joy. In the animation world; young hearts, eager to fly... The melody of the school song Animation World flied through the the campus. The freshmen reception has come to a successful conclusion through the cooperation of all departments and the hard work of students and staff. May the class of 2021 have a fruitful journey here at JAI!