Position:News-At The Invitation of French Consulate-General in Shenyang JAI Attended 2021 French Higher Education Institutions Itinerant Exhibition in Changchun
News time:2021-04-20 17:25:25
On April 18, 2021, vice chairman and vice president of our Institute, Ms. Liu, Xin and deputy director of International Cooperation and Development Center, Ms. Miao, Luxi attended the 2021 French Higher Education Institutions Itinerant Exhibition in Changchun at the invitation of French Consulate-General in Shenyang. 21 French Higher Education Institutions including University of Paris, Centrale Nantes and Lyon Business School attended the exhibition. The host of this exhibition hopes that through this exhibition, more Chinese students will be attracted to study in France. The host also look forward to strengthen the communication in French language, education and academical aspects with northeast China.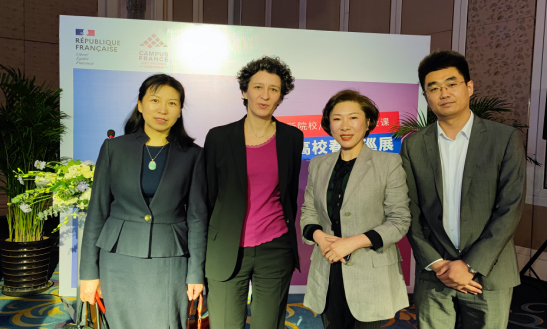 Provincial Department of Education, Provincial Foreign Affairs Office, Foreign Affairs office of Changchun and representatives of relative higher education institutions of Jilin province also attended the banquet of the exhibition. During the banquet, Ms. Anne, Consul General of the French Consulate-General in Shenyang gave a welcome speech to the guest, representatives of French higher education institutions and representatives of Chinese students. Ms. Anne presented her will that more Chinese students can go to study at France. Many higher education institutions in northeast China have signed cooperation agreements with French education institutions. In the future, China-France Academies will be established and education cooperation between France and China will be further strengthened.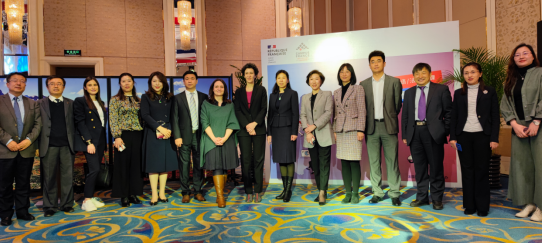 During this French Higher Education Institutions Itinerant Exhibition, our institute had preliminaryly docked with representatives of Audencia Business School, Grenoble Graduate School Of Business, Université Catholique de l'Ouest.
Until now, JAI has already signed cooperation agreements with 9 French higher education institutions and in the future, there will be more collaborations in students and teachers exchange and intercollegiate cooperations.