Position:News-2021 JAI Recruitment Information for Overseas High-Level Talents
News time:2021-04-09 11:12:35
I、JAI Introduction
Jilin Animation Institute (shorted as JAI) was established in June 2020.It was admitted to be "Independent Undergraduate-level Private College" by Ministry of Education in China in 2008, which is the largest animation institute in the world. JAI is also a academy of Jilin Province characteristic high-level applied university construction project. The animation and digital media art majors have been approved as National First Class Professional Construction Projects, and animation major rank first throughout country in this area.
Six major teaching, scientific research, industrial integration and social service systems have been established, including animation games, film and television, design, virtual reality and artificial intelligence, cultural industry management, marketing, and civil aviation. The school adheres to three major characteristics of "Openness and International Orientation, Integration of Education, Research and Industry; Technicalization of Creative Products". It is National Animation Teaching & Research Base, National Animation Industry Base, National Cultural Industry Demonstration Base, National College Student Innovation & Entrepreneurship Project Implementation Unit, and Top Ten Animation Education Institutions in the Pan-Asian Region.
JAI has 17 branch schools, which is involved in five major industrial clusters: animation games, film and television, design advertising, cultural industry management, and civil aviation. JAI has about 12,000 current students, more than 40,000 outstanding talents in cultural and creative industries have been taught, and a large number of major scientific and technological achievements and industrialization results have been achieved.
Based on the needs of school development, we are now recruiting high-level talents and professional senior leaders in the fields of animation games, film and television, design, and virtual reality from overseas to gather together and seek further developments.
II、Positions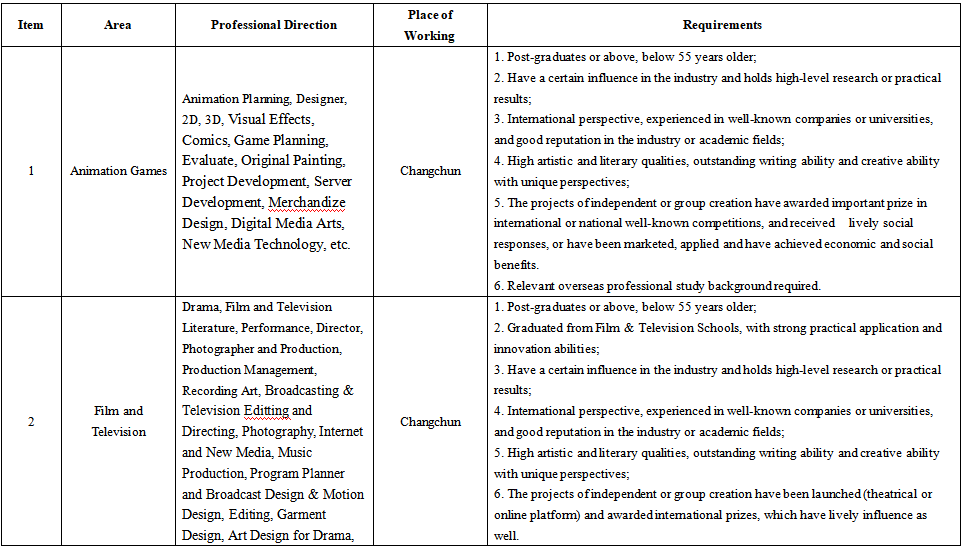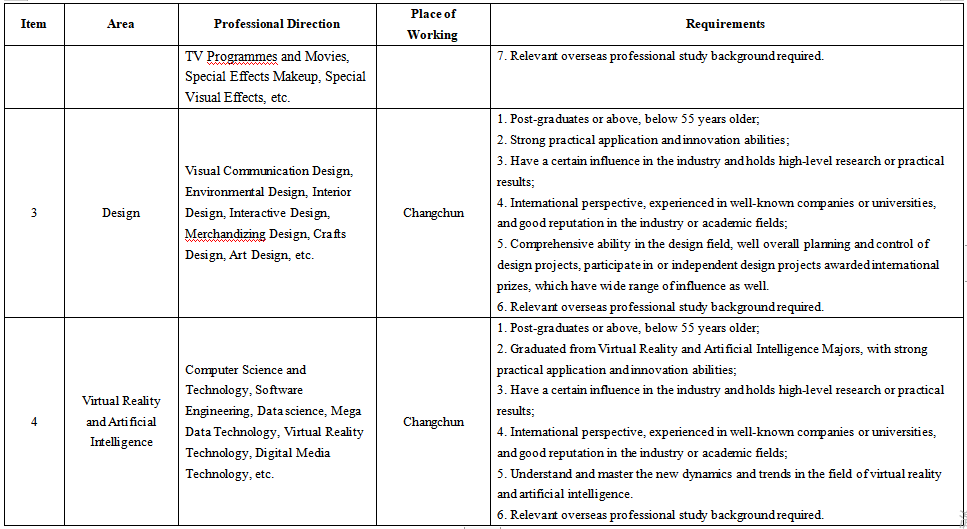 III. Welfares and Treatment
1. Well paid, annual salary system, negotiable, enjoy school welfares.
2. Other than the said well paid salary and welfares, also provide project launch expense support.
3. Priority is given to apply national, provincial, and municipal high-level talent titles, recommend to apply provincial and municipal government talent introduction policies and reward policies.
4. According to the transformation of the project undertaken, enjoy unlimited project bonus or share, meanwhile enjoy equity, options, etc.
5. For recruited talents from other places, provide school experts apartments, assist with children's schooling and arrange spouse work.
IV. Relevant Instructions
Please contact us freely.
Resume email to: animationfa@126.com
(Please attach personal graduation certificate, qualifications and personal profilos)
Contact: Debbie Jiang
TEL: 86-431-87019935
School Address: Jilin Creative Industry Park of Animation, Comics & Games, No.2888 Guigu Street,High-Tech Industry Development Zone, Changchun, Jilin, China
Website: http://en.jlai.edu.cn/index.php
Jilin Animation Institute
April 3, 2021