Position:News-Debut Win of Student from School of Game of JAI in Participating Global Game Jam
News time:2021-03-31 15:25:18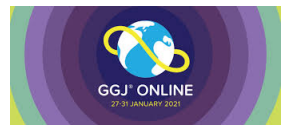 On January 31, 2021, Global Game Jam Online (GGJ Online), an annual international game development event, came to a successful conclusion after 48 hours of extreme challenges for participants from all over the world. The world's largest Game Jam, "GGJ", started in 2009 and has grown in size every year since. It is now the largest game creation event in the world.
With the great assistance of International Cooperation and Development Center, after careful organization and deployment in the early stage, 7 students were selected by School of Game to participate successfully. In this competition, Qi Chengwei, a Grade 2020 Digital Media Art major student from School of Game, and his team players completed the game "Finding Friendzy", which won the Most Innovative Game Award in GGJ Online Hong Kong.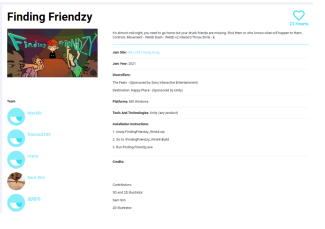 Due to the epidemic, the competition was held online in 2021. A total of 585 sub-venues in 104 countries and regions have been set up in the world. More than 28,000 game creators in 104 countries at 585 virtual sites around the world from making over 6,000 games.The creators are made up of employees of game companies, independent game developers, students majoring in game, etc., which is a very valuable practical experience for all our students.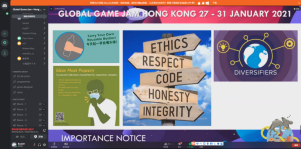 Knowing that there was a competition opportunity, the students were very enthusiastic. After comprehensive consideration of professional ability, English speaking ability, competition experience and other aspects, 7 students were selected and formed the "JAI Global Game Jam Team", and participated in different sites of competition. In the preparatory stage of the competition, Li Yan, the teacher from School of Game, led the students to organize two simulation competitions, using the themes of previous competitions to conduct simulation exercises for students. In this competition, the players of "JAI Global Game Jam Team" overcame various obstacles and made outstanding performances in different sites, which have been recognized by the organizers. The students fully demonstrated JAI's spirit of striving for challenge and pursuing excellence.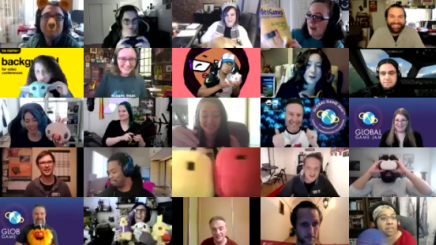 Through this competition, the technical abilities of our students have been recognized by international professional game developers, and they have also established contacts with more game creators and broadened their international horizons. This game also further deepensJAI's "Openness and International Orientation" characteristics of school-running, opens the door for JAI's students to enter international professional game development competitions, enhances the school's international brand, and lays a stable foundation for the future participating international game development competitions.
News link:
Global Game Jam (GGJ) was established in 2009. It is an annual distributed game competition. It was originally jointly developed by the International Game Developers Association to integrate creativity, collaboration and experimentation. In each physical site, creators gather together to create novel and creative innovative games within a limited time and present them to their peers and the global community.
Website:https://globalgamejam.org/