Position:News-Youth Inspirational Movie "The Gate of Dream" Officially Launched and Exclusively Broadcast on Tencent Video
News time:2021-03-30 10:16:49
Today, the campus youth inspirational film "The Gate of Dream", jointly created and produced by Jilin Animation Institute and Jilin Vixo Pictures Co., Ltd., was exclusively launched in Tencent Video. The film, starring Niu Baoyi , Chen Yichen, Ma Zhe, Zhang Yunyue, Lin Li, Li Songci and Zhou Hang, tells the story of five beautiful girls who are about to enter the society from the ivory, a 21-day dream-catching journey started by a mysterious online game.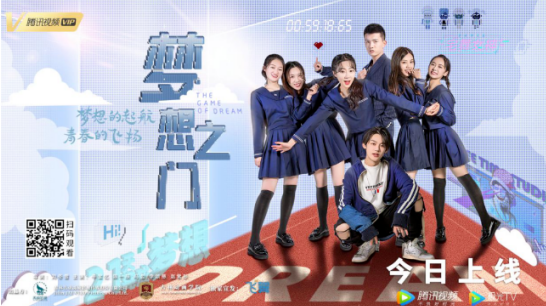 "The Gate of Dream" tells the story of Xia Xiaoman (played by Niu Baoyi), a hopeless college student who accidentally came into a mysterious online game "The Gate of Dream", but unexpectedly learned that the consequence of giving up his dream was to become a stuffed toy! In desperation, she and the icy goddess Nana (played by Yue Jing), the cartoonist Song Wei (played by Zhang Yuyue), the sweet coser Qu Tingting (played by Lin Li), and the royal sister of the law department Liu Jing (played by Zhou Hang) formed the "Unknown Girl" house dance troupe. With the help of the college hunk (played by Ma Zhe) and the gold medal choreographer Qiu Boyi (played by Chen Yichen), they entered the house dance with adventure.
The biggest attraction of the film is the collision between the game setting of punishment and the culture of the second-dimensional house dance, offering a visual enjoyment to the audience. What kind of secrets are hidden behind the dangerous game "The Gate of Dream"? What's the unspeakable secret when the college hunk helped Xia Xiaoman clear customs free of charge? The realistic thinking behind the layers of suspense reversal in "The Gate of Dream" also left the audience with a full aftertaste.
The film takes the second-dimensional house dance culture as the breakthrough point, focusing on the confusion and anxiety that college students are facing with severe employment situation. "The Gate of Dream" is based on an interesting campus story, which explains the persistence of dreams and the processing enjoyment of life. What the film leaves to the audience is a great aftertaste.
The film "The Gate of Dream" is the achievement of JAI, adhering to the implementation of open-ended international education, take a development path of Integration of Education, Research and Industry, and precise talent training for many years. It fully demonstrates the efforts to promote teaching reform and discipline construction and development of the JAI by industrial projects, and plays an important role in improving the professional ability and market awareness of teachers and students, enhancing the brand awareness and industry influence of JAI, and building a characteristic system of industrial universities.
Stay tuned on Tencent Video, watch the energetic girls group and their inspire dreams~!
We invite you to watch "The Gate of Dream", click on the link to watch, enjoy the good times.
https://v.qq.com/x/cover/mzc00200hg3gl8y.html?sf=uri