Position:News-Animated Short Film Work "Chimaera" of Jilin Animation Institute (JAI) Won the Award in"CG Animation Theater" of The 13th ASIAGRAPH
News time:2020-07-08 12:47:45
Congratulations on the short animated film work "Chimaera" selected by our School of Animation Art winning the award in "CG Animation Theater" of The 13th ASIAGRAPH held in Japan in November 2019!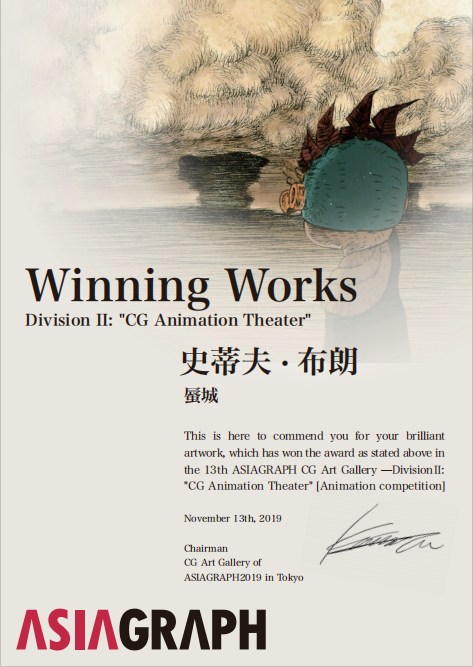 Recently, our Institute received the notice that the animated short film work "Chimaera" won the award in the "CG Animation Theater" of the 13th ASIAGRAPH in Japan. The work was directed by Steve Brown, Guest Professor of JAI and Associate Director of Character Animation Department from CalArts, who led more than 30 teachers and students from our School of Animation Art to create the work together.
The animated short film "Chimaera", which uses 2d hand-drawing skill to make, mainly tells the story of a boy with an unexpected waterfish looking for cumulonimbus in the desert. The work inspires and reminds modern people with its environmental protection theme.
Guided by the characteristic of "Openness and International Orientation" of our Institute, the animation short film "Chimaera" won the award, which also fully demonstrates the rich achievements of "Integration of Education, Research and Industry" of our Institute's characteristics construction.
Background:
ASIAGRAPH is one of the famous competition activities in Asia, which aims to promote the Asian unique multi-culture, the integration of science and art, to develop digital media art with Asian characteristics, to bring the Asian researchers and creators who are active at the forefront of the world together, to make cutting-edge technology distribution and display, it is a comprehensive competition with the integration of academic, art, exhibition and performance.