Position:Global-Summer and Winter Camp Brochure of Jilin Animation Institute
News time:2019-04-24 14:34:13
Majors: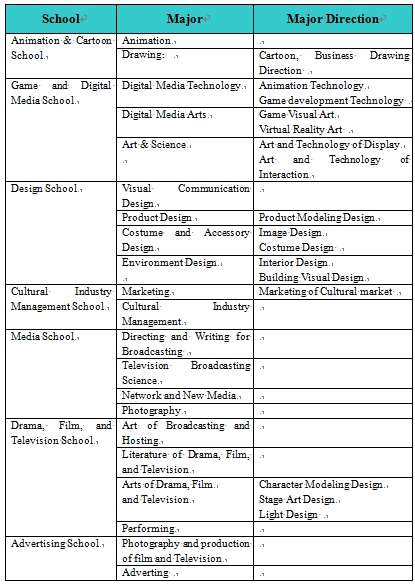 Industrial Company:
Jilin VIXO Animation, Comics & Games Technology Co., Ltd., established in 2008, is under the same board management with Jilin Animation Institute. Branch companies have been set up in succession. The Film & Television branch is located in Changchun, while the Network Branch and Game Branch are located in Beijing and Shanghai with the staff of nearly 1,000. Jilin VIXO Animation, Comics & Games Technology Co.,Ltd. has formed its own four pillar industries, including VIXO animation, VIXO game, VIXO web, VIXO new media.
Campus Surroundings:
Located in high-tech industrial development zone, southwest of Changchun with convenient transportation and living facilities. Near our school there are Jilin University, Changchun University of Technology and other universities or colleges with a strong culture atmosphere. Besides, Eurasia Shopping Mall, the world's largest individual building, located nearby. Furthermore, there are sightseeing sites such as South Lake Park, Changchun World Sculpture Park, etc.
Admission Object and the Number of Enrollment
High school students and undergraduate who are interested in Chinese language and culture, comics, game, animation design, etc.
Number of Enrollment: 6-8 students per group
Date of Application
Summer Camp: from May 6th to May 31st, 2019.
Winter Camp: from Sept. 1st to Oct. 15th, 2019.
Application Procedure
Send the completed application form to animationfa@126.com
Activity Time
Summer Camp: in June (one week)
Winter Camp: in December (one week)
※ Specific time can be confirmed with relevant colleges and universities after communication.
Winter and Summer Camps Programs
1. To learn basic Chinese and culture experience courses;
2. To learn feature courses (workshop practice), such as animation, comic, game, design, etc.
3.To carry out works' communication and forum with Chinese students;
Contact Us
International Cooperation and Exchange Center, Jilin Animation Institute
Add: Room 1602, Jilin Creative Industry Park of Animation,
Comics & Games, No. 2888 Guigu Street, High-Tech Industry
Development Zone, Changchun, China
Tel:+86-431-87018878, +86-431-87019935
Fax:+86-431-87019935
E-mail:animationfa@126.com
Website:www.jldh.com.cn