Position: Notices | Seminars in School of Advertising    News time:2015-10-14 15:03:27  
On October 12th, Lun Jieying, the CEO of LOWE Shanghai, and Chen Zihui, the well-known master on color work, have invited by School of Advertising and International Cooperation and Exchange Center of JAI to deliver speeches.
Event One:
Time: October 12th, 9:30 am
Place: Multi-functonal Exhibition Hall of School of Advertising
Keynote Speaker: Lun Jieying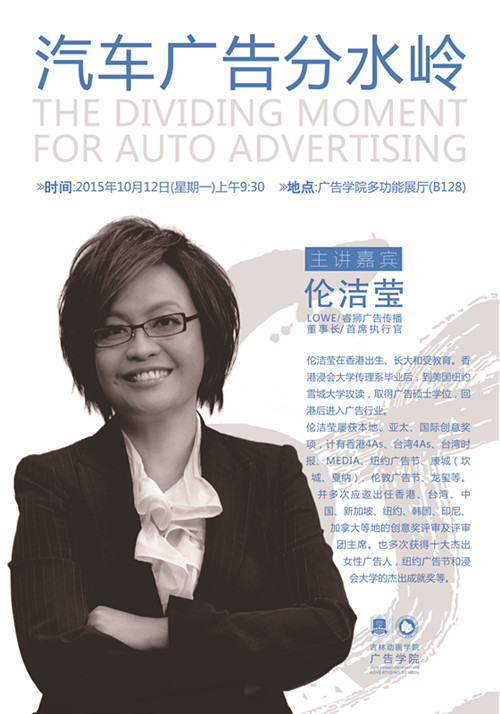 Lun Jieying, the chairman and CEO of LOWE China, was born and reared in Hong Kong. After graduating from the department of communication in Hong Kong Baptist University, she pursued her master study of advertising in Syracuse University. Back to Hong Kong, she started her career in advertising industry. She has won various local, Asia-Pacific and international creative awards, such as Hong Kong 4As, Tai Wan 4As, Tai Wan Times, MEDIA, New York Advertising Festival, Cannes, London Advertising Festival and Long XI, and the top ten women advertiser, and the outstanding achievement award in New York Advertising Festival and HKBU. And she has worked as the judge and the chairman of review group for creative awards in Hong Kong, Tai Wan, China, Singapor, New York, Korea, Indonesia and Canada, etc.
Topic: The Dividing Moment for Auto Advertising. In 2014, LOWE China has advertised a series of Human Traffic Sign for Buick, which is the original advertisement series woning the most international awards. With the case, Mrs Lun would explicate the whole process from advertising strategy, insights, creation to execution.
Event Two:
Time: October 12th, 2:00 pm
Place: Hall on second floor of the library
Keynote Speaker: Chen Xiaohui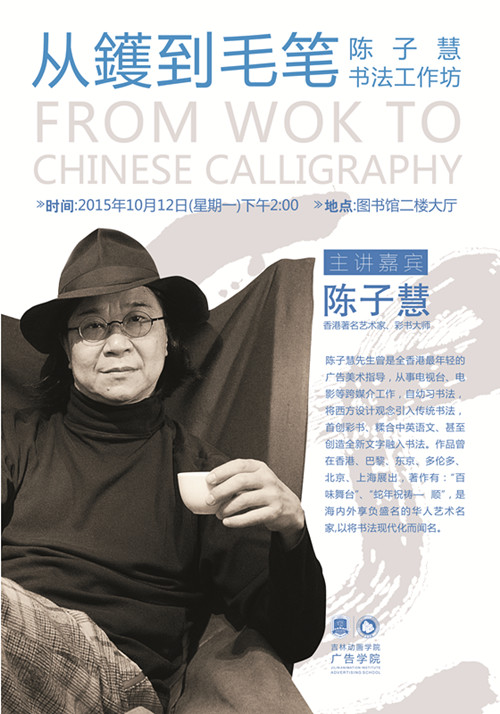 Chen Xiaohui, a famous Hong Kong artist and color work master, was the youngest advertising art director in Hong Kong, working on trans-media such as television and films. Since childhood, he has practised calligraphy by introducing western design concepts, creating color work, combining Chinese-English philology and even integrating new characters. His works, such as "Colorful Stage" and "Snake in Prayer--Shun" have been displayed in Hong Kong, Paris, Tokyo, Toronto, Beijing and Shanghai. He is internationally well-known for the modernization of calligraphy.
Topic: From Wok to Chinese Calligraphy----Chen Zihui Calligraphy Workshop. He holds that only by gaining others' trust, respect even admiration and exporting culture, value, China can be strong; while, Chinese characters are the core of Chinese culture. He would ignite the creative idea with the faculties and students through artistic, heuristic expression and interactive communication.
Reported by Hulda