Position: News | Delegation of Jilin Animation Institute was invited to attend the 2017 San Diego ComicCon   News time:2017-08-03 08:47:18  
The 2017 San Diego ComicCon was held from July 20 to 23 in the Convention Center in San Diego this year. A delegation led by the Vice President, Mr. Luo Jianglin, including the Dean of School of Industrial Design, Mr. Lin Ting-Huei, Vice Director of Strategic Planning Office, Ms. Liu Lei, Assistant to the GM of Vixo Film, Ms. Liu Jia, Staff of Product Office of Synctime Network Technology, Ms. Zheng Jian, Supervisor of Promotion Office, Mr. Xu Jiaqiang, student of School of Comics, Ms. Wang Yukun, attended the San Diego ComicCon.
Vice President of JAI, Mr. Luo Jianglin and Disney artist, James C. Mulligan had a group photo
The San Diego ComicCon, with 47 years' history, is the largest gala of comic industry in the world which has the largest scale and the highest maturity of market. It is also a carnival with all the public's participation. The board of JAI places high importance to it. And this visit will have significant meaning for the international development for the JAI and its industry companies.
This years' ComicCon has six pavilions for different area including comic, animation, game, film, merchandise and artists alley. Over 2000 international famous brands and companies engaging in the industry of animation, comic, game, toy, publishing, visual effect, special makeup, costume joined the ComicCon, such as DC, Marvel, Dark Horse, Diamond, IDW, Hasbro, Lego, Blizzard, Ubi Soft, Nintendo, Xbox, CapCon, Netflix, Lucas Film, Warner Brothers Film, Focus Film, Lions Gate Films, Weta Workshop, 3D Systems and so on, for exhibition, sales and marketing, IP licensing and publishing.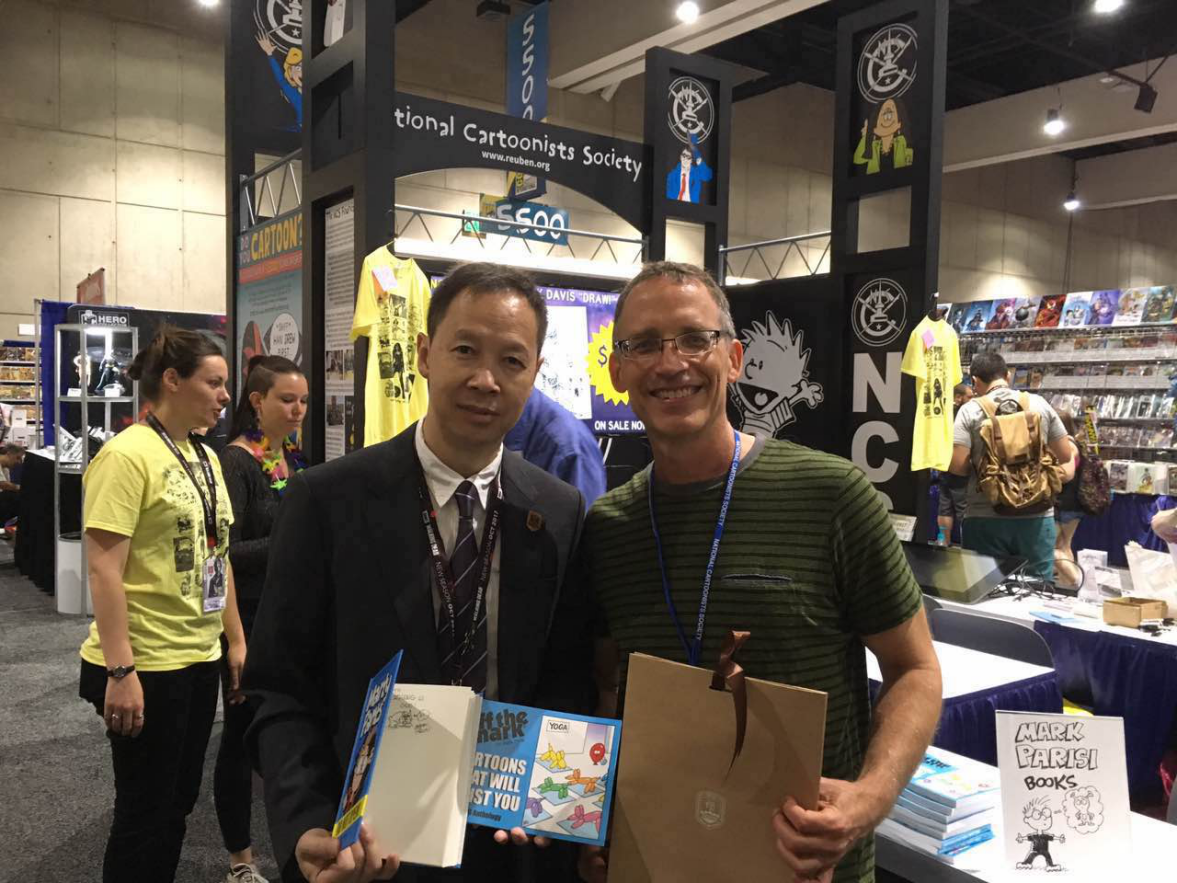 Vice President, Mr. Luo Jianglin and cartoonist Mark Parisi had a group photo
The delegation of JAI learned about the animation and comic IP licensing of USA, merchandise designing, and comic exhibition's planning and designing; knew about the event of 2017 San Diego ComicCon Comic Carnival; promoted the cooperation with National Cartoonists Society, Weta Workshop, Cinema Makeup School, and the organizing committee of San Diego ComicCon. They met with the Andrew McMeel Universal, Dark Horse and other famous publishers. And they connected with the visual effect supervisor of Marvel, Mr. Ryan Meinerding, and Disney artist, Mr. James C. Mulligan, author of the Phoebe and Her Unicorn, Ms. Dana Simpson, author of Luann, Greg Evans, sculptor Andrea Blasich and so on.
Through attending the ComicCon, our teachers and students learned the most advanced concept and ideas of animation and comic in the USA. It will bring positive effect for the development in animation, film and publishing for our school and our companies. Meanwhile, it will bring us new opportunity to connect with the global market fast and perfectly so as to explore the culture creative industry and expand the global market.
Planning and Strategic Development Center
International Cooperation and Exchange Office
August 2, 2017