Position: News | Build A Communication Bridge by Arts Works Exhibition of Chinese and Japanese Graduates   News time:2017-08-01 14:29:36  
This April, there is a special works exhibition in Osaka Academy of Entertainment Design. It not only exhibited the works of Japanese students, but also, the excellent works and creativity of JAI students were exhibited.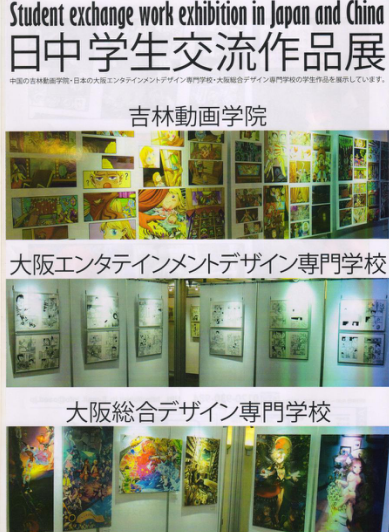 Poster of the works exhibition
This works exhibition was co-hosted by the Osaka Academy of Entertainment Design, Osaka Sogo College of Design and Jilin Animation Institute. It displayed seven illustration works, five comic works and three animation works of Jilin Animation Institute. This works exhibition attracted many Japanese students and had received much attention. Even the students are far away from each other, they had a communication on their creativity and inspiration through the bridge of art, namely this works exhibition.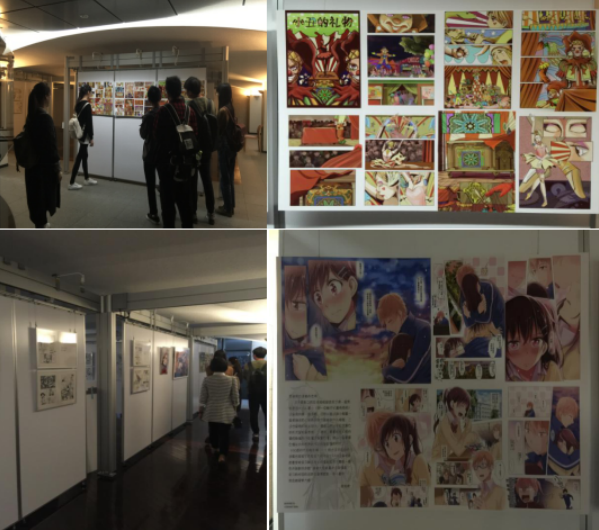 Artworks of students of JAI
This artwork exhibition not only display the art skills and creative capabilities of our students, but also display the achievement of our schooling characteristics, namely the Openness and International Orientation. We believe that in the future, we will see more names and artworks that are from Jilin Animation Institute.
International Cooperation and Exchange Office
Reported by Jin Lu
July 10, 2017
News Link:
Ueda Gakuen:
Ueda Gakuen was founded in 1941. It has Ueda College of Fashion (1941) and Osaka Sogo College of Design (1965).
Ueda Gakuen has gathered many excellent predecessor, and has many excellent instructors who are still active in the industry. The Ueda Gakuen aims to cultivate the talents who are strong in sensibility, knowledge and technology.
Osaka Academy of Entertainment Design
Osaka Academy of Entertainment Design (OAED) is the third school founded by the Ueda Gakuen. Founded in April 2014, OAED is a vocational school where students study three years here. The JAI signed a cooperation agreement with OAED for exchange in June 2017.
Majors:
Comic (Menga), animation, game, dubbing, dancing. Koike Kazuwa Character Design Studio, and Gisaburo Sugii Animation Studio.
The school also has the Osaka comic art museum, its exhibitions are mostly from the works of students.