"The Meaning of life Interpreted Through Vision"2022 International College Students Film & TV Exchange Exhibition Jilin · China is calling for entries. The exchange exhibition aims to promote the learning and exchanging of film and television between international and domestic colleges and universities, build a platform for young filmmakers to exchange ideas for film and television, so as to improve their own level of creation, and jointly discuss the development and creative direction of young filmmakers. As an international and professional film and television competition, the entries of the competition have various forms and rich contents and themes, which fully reflect the development trend of current film and television creation from different aspects. The expression method is unique and the visual image is novel, which was presenting the effects of hundreds of flowers blooming of modern film and television works.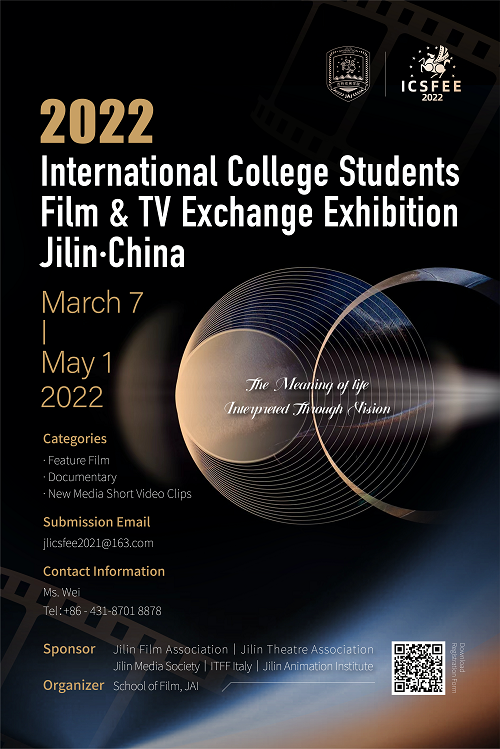 Exhibition Purpose
2022 International College Students Film & TV Exchange Exhibition Jilin · China aims to build a creative exchange platform for young film, television, and new media members, encourage college students and young industrial practitioners to explore a variety of original images, discover outstanding creative talents for film and television works, and strengthen learning and exchange of film and television between international, and domestic friendly colleges and universities, and jointly discuss the training mode and direction of young people in the filed of film, television and new media.
Sponsor:
Jilin Film Association
Jilin Theatre Association
Jilin Media Society
Jilin Animation Institute
Organizer: School of Film, JAI
Assistant: The participating universities
Activity Theme
The Meaning of life Interpreted Through Vision
Submission Schedules
March 7 - May 1, 2022
Categories
The categories of call for entries are: Feature Film, Documentary, and New Media Short Video Clips. The entries must be completed between May 1, 2020 and May 1, 2022, no participation in similar awards in previous exhibition, and meet the following entry requirements for the corresponding entry categories:
a. Feature Film: including feature films, streaming films, and micro-films (micro-films should be less than 30 minutes in length) produced by the school or created by the student.
b. Documentary: including documentary film, TV documentaries, and feature programme that reflect real life and events (documentary shall be 15-60 minutes, micro-documentary 5-14 minutes). No topic limited.
c. New Media Short Video Clips: the form shall be novel with innovative expression method, and the length should be less than 5 minutes. No topic limited.
Awards
One first prize for each unit(Prize of RMB 10,000 Yuan for Feature Films and Documentaries; RMB 5,000 Yuan for New Media Short Film Clips)
Five second prizes for each unit(Prize of 1,000 Yuan for Feature Films and Documentaries; RMB 800 Yuan for New Media Short Film Clips)
Ten third prizes for each unit(Souvenirs)
Entry Requirements
a. The main creators of the works are students who have officially registered and graduated from higher art colleges outside the country (overseas) within three years;
b. Works planned and co-created by the school-led organization can participate in the screening;
c. The feature of work must include a complete opening, title, and ending, subtitles including the list of main creators, complete Chinese or English subtitles are required;
d. The participating works must attach a 15-30 seconds trailer with the original resolution (excluding New Media Short Film Clips), the trailer is the edited version of the original film, and the format is the same as the feature of entry works required by the event.
e. Provide at least 4 film screenshots, 1 poster (300dpi, jpg, 60cm x 80cm or above), 3 still frames (300dpi, jpg);
f. Provide a director's life photo (1000X1000 pixels or above, 300dpi, JPG);
g. No company watermark or "sample" in the entries;
h. The creator of the work shall ensure that the whole and part of the work have independent, complete, clear and undisputed copyright; and also guarantees that the submitted works will not damage any third party's contribution right, portrait right, reputation right, privacy right and other legitimate rights and interests. Contributors shall bear the legal responsibility for their submissions and submitting activities;
i. The works should be healthy and positive, not pornographic or violent elements allowed, which shall obey Chinese laws and cultural policies as well.
Submission Instructions
a. Download and fill in the electronic registration form or the attached registration form from the official website of Jilin Animation Institute.
b. There are two types of submission methods: (1) Upload film, trailer, and relevant pictures online and fill in the download link in registration form. Send your registration form to official receiving email address. (2) Attach all materials and email to official email address of competition: jlicsfee2021@163.com.
The format requirements for Feature Films, Documentaries and
New Media Short Videos Clips are as follows:
1) Resolution: 1280x720 or above;
2) Format: Quicktime (MOV), H264 video decoding, MP4, or AVI;
3) For works with dialogues, the Chinese or English dialogue text is required.
c.Please indicate the name of entry, the name of the author, the name of the school or institute and the duration.
d. Before May 1, 2022, email the sealed registration form to official email address: jlicsfee2021@163.com, email subject shall be "film type + director's name".
e. All entries will be awarded with certificates, and award-winning works will be awarded with certificates and prizes.
Exhibition
a. iQIYI—Jilin Animation Institute Zone
b. Offline screening (schedule and place will be announced later)
IX. Entry instructions
a. By submitting your works, contributors agree to accept all exhibition rules, articles of association and instructions formulated by the organizing committee.
b. Once entry works submit, no withdrew allowed for any reason.
c. Complete personal info must be submitted while apply. The contributors shall be responsible for the losses caused by unclear or inaccurate registration info.
d. All entry works must be completed. Sketches or any half-finished works are not accepted.
e. All entry works are deemed as grant the exhibition right of all authorized exhibition established by the Organizing Committee, including videos, still frame images, trailers, Chinese / English subtitle copies of entry works. All these materials can be used for promotion activities by the Organizing Committee and relevant exhibition activities after this event, including news reporting, media broadcasting, brochures, books or magazines, TV stations, internet, mobile media or other promotions and Exhibitions.
f. Once submit you entries, will be deemed as authorize Organizing Committee to archive your work, and the Organizing Committee has the right or / and authorize a third party to use the entries and relevant materials permanently and free of charge for promotion purpose, which means the Organizing Committee has the right to display, publicize and promote the entry works and relevant materials without paying any fees to contributors.
g. No registration fee charged.
h. All the entry works will not be returned. Please safe keep backup copy before submission.
i. The organizer and organizing committee have the final right to interpret all rules and regulations of selection, exhibition and judging entry works.
Description of copyright and other legal issues
a. The entries shall keep clear patent right, copyright, trademark right, reputation right, portrait right and any other legitimate rights and interests, no infringe of any third party rights. The legal issues and disputes arising therefrom shall be borne by the contributors.
b. Participants must ensure their entries are original and that they keep the sole and exclusive rights of submitted works. Participants agree that their participation will be away from:
(1) Infringing the exclusive rights, intellectual property rights, industrial property rights, personal rights or other rights of any third party,including but not limited to copyright, trademark, patent, trade secret or confidentiality obligation.
(2) Violating other applicable laws of any country in the world.
c. During the competition, participants allow to use the same entry to participate in another similar competition or related commercial activities. However, if it conflicts with the provisions of other competition or relevant institutions, all possible consequences arising therefrom shall be borne by the participants themselves.
d. For all conflicts and disputes arising from the Chinese and English translation of this call for entry, the Chinese version shall prevail.
e. This call for entry shall take effect from the date of publishing.
Welcome partner colleges and universities to send students' works to participate in this exhibition, and welcome students to submit entries alone as well.
Contact information:
Ms. Wei
Tel:+86-431-87018878
Submission email:jlicsfee2021@163.com
2022 China · Jilin College Student Film and Television Works Exchange Exhibition Competition Entry Form.docx